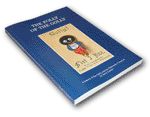 The Folly of the Golly by Jerry Loader

Launched October 2005.

Jerry Loader needs no introduction to most. In 2000 he exhibited a part of his comprehensive Robertson's Golly memorabilia collection at Paisley Museum, issued a Robertson's approved Golly badge to commemorate the event, is found at Quorn Swapmeet each year (almost) without fail and of course, has the largest collection of Golly memorabilia known. Many of us have known that he has aimed to bring out a book with the most comprehensive, accurate, concise account of the badges and history that he possibly can. I have read and reviewed it.

---
The clubs listed below will provide more brooch information and a source of second hand sales. If you do subscribe to any of them, please mention that you got the address from my web site
Badge Collectors Circle (BCC)

The club produces a bi-monthly newsletter, The Badger. Although it is aimed generally at all kinds of badge collectors, there are many Golly sales within the newsletter.
They also hold regular swapmeets where you can go along in person and trade badges with other collectors. A large one is held in Quorn in October and a smaller one in Stoke around May. For anybody who has never been to a Quorn meet, I have documented my brief thoughts on Quorn Swapmeet. The dates for the next Quorn and Stoke swapmeets are published on the What's On section.
As at December 2004 the cost of one year's membership is £15.

I am a member of the BCC.



| | |
| --- | --- |
| Web Site: | BCC Online |
| | |
| Mailing List: | Badgers (Yahoo! group aimed at members of the BCC). |
| | |
| Email: | Frank Setchfield |
| | 57 Middleton Place |
| | Loughborough |
| | Leicestershire |
| | LE11 2BY |
| | ENGLAND |