Backstamp to the Gold Farewell Golly.

Launched on August 23rd 2001 to replace the Golly premiums, this set of badges introduces the major characters from seven of Roald Dahl's books. Anybody who received a Golden Farewell badge got one badge free in their Farewell Package.
On the reverse of each badge in the Roald Dahl set there was a (reassuringly) familiar sight: the backstamp was the same as the Gold Farewell Badge.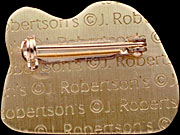 Backstamp to the first Roald Dahl set.


Backstamp Reads: ©J. Robertson's
---
The Five Golden Ticket Winners - December 2002
The 5 Golden Ticket Winners featured in the book Charlie and the Chocolate Factory (1964) were the subject of the second set.
By the time the second set was released the backstamp had been altered to include copyright to Roald Dahl Nominee Limited and Quentin Blake (the illustrator). The backstamp was now beginning to look less than succinct.

Backstamp Reads: ©RDNL/QB 2002 ©J.Robertson's

Backstamp to the second set.

---
The Big Friendly Giant Set Of Four - December 2003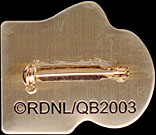 Backstamp to the third set.

Three Characters from the book The BFG (1982) are featured on the latest set.
Now the credit goes solely to Roald Dahl Nominee Limited and Quentin Blake. There is no mention of Robertson's. It is not the first time Robertson's have omitted their name on the backstamp of their promotional badges, but the progression above does indicate that their aim to instantly associate Quentin Blake's illustrations of Roald Dahl characters with Robertson's is not working out quite as we (or they?) imagined. We do know that Robertson's have to get every promotional item approved by Roald Dahl Nominee Limited and that they take a while to give their seal of approval. Perhaps it is inevitable that when you throw in with a real Giant like Roald Dahl World you will lose some control but it does look like this Giant's grip is tightening!

Backstamp Reads: ©RDNL/QB2003